Editorials
National News
Indian- Origin high-skilled Indian workers, DALCA kids, rally on Capitol Hill to clear green card backlog
Indian- Origin high-skilled Indian workers, DALCA kids, rally on Capitol Hill to clear green card backlog
WASHINGTON, DC(TIP): 
Indian-origin high-skilled workers and their kids caught up in the 
broken American immigration system received full support from the 
powerful Republican lawmakers to obtain lawful permanent residency, 
popularly known as a green card.



Addressing a rally on the expansive west
 lawn of the US Capitol, Senator Rand Paul of Kentucky told a sizeable 
crowd of Indian immigrants: "You have come lawfully. You have come 
legally and yet it takes forever and maybe it never happens at all that 
you get your permanent residency". A simple way to fix that, he said, is
 "more green cards and no country limits". The current immigration 
system imposes a seven percent per-country quota on the allotment of 
family-sponsored and employment-based visas.


An influential voice in Congress, Paul 
has been in the forefront of boosting high-skilled immigration including
 increasing the H-1B visa cap, allowing the best and brightest to come 
to America. "The Indian-American community has exceeded to such levels 
that it is difficult to recount", he told the crowd at the rally, 
mentioning Nobel laureates, Deans at prestigious universities, CEOs in 
Silicon Valley of 
Indian origin
.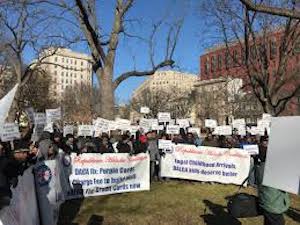 The event drew busloads of Indian professionals and kids from across the US including the states of 
California
, North Carolina and New Jersey

Imploring the gathering to be more 
engaged, Paul said, "People need to talk about what the Indian-American 
community has brought to America, how you are already part of America, 
how you are making America great".



On eliminating the per country cap for 
allotment of employment-based visas, he reasoned, "If you want to work 
and you've got a job and you want to be part of America, there are much 
larger amounts (of immigrant workers) that we can bring in. There is not
 really a limit if people will work". In his own state, he disclosed, 
there is a shortage of skilled workers. "So, we want more people in our 
country, but we need to do it lawfully, legally and with a process", he 
emphasized.


The
 event drew busloads of Indian professionals and kids from across the US
 including the states of California, North Carolina and New Jersey
The rally was organized under the aegis of the 
Republican Hindu Coalition
 (
RHC
)
 founded by Chicago-based industrialist Shalabh Kumar, a staunch 
supporter of President Trump. On hand, were his son Vikram Aditya and 
daughter Manasvi spearheading the proceedings.

The event drew busloads of Indian 
professionals and kids from across the US including the states of 
California, North Carolina and New Jersey. At one point, rally-goers 
made a human chain on the expansive lawn of the US Capitol chanting 
slogans like "Clear green card backlog", "High-skilled immigrants 
deserve better", "DALCA deserves better". It was quite a sight to behold
 as they raised their voices in unison hoping those in the corridors of 
power would hear and heed their clarion call for action.


In the spotlight were children of H-1B 
visa holders which the RHC calls DALCA (Deferred Action for Legal 
Childhood Arrivals) kids. They face possible 
deportation
 when they age out of their 
H-4
 dependent status. These are the legal Dreamers sidelined by the DACA 
(Deferred Action for Childhood Arrivals) kids who were brought to the US
 illegally as children.

While acknowledging that he sympathizes 
with DACA recipients, Senator Paul made it clear he doesn't believe 
"they should somehow get in front or obscure the kids of legal 
immigrants" who must have protections in place.


Congressman Pete Sessions of Texas, 
Chairman of the House Committee on Rules, thanked the crowd at the rally
 for sending a message to their families in 
India
 that "America wants and needs India to succeed. We want your great and 
young Prime Minister Modi to be just not a world leader, but a brave 
leader who will forge a path with America towards a better future", he 
said.
Source:https://www.theindianpanorama.news
/unitedstates/indian-origin-high-skilled-indian-workers-dalca-kids-rally-on-capitol-hill-to-clear-green-card-backlog/
User reviews
There are no user reviews for this listing.